FieldAgent Mobile - Create a field and flight plan with a CSV file
CSV Files can be imported into FieldAgent Mobile by choosing to open the file with "FieldAgent" on you iPad. These CSV Files of GPS points can be used to create a Flight Plan and or even a new Field.
CSV File Format

GPS points must be written in decimal degrees format.
Your CSV file must include two columns. Latitude values go into column A, and Longitude values go into column B.



Each row is a pair of latitude longitude points. The order of these pairs dictates how your field boundary is drawn.

This Image shows the field boundary created from the CSV file above. Each numbered point on the field corresponds to the same numbered row in the CSV file.


List your GPS points in a clockwise or counterclockwise pattern around your field. Going out of order can create strange field shapes such as the field shown below.

This field boundary was created by swapping rows 4 and 7 in the original CSV file shown above.





Importing a CSV

1. Select the .CSV file on your mobile device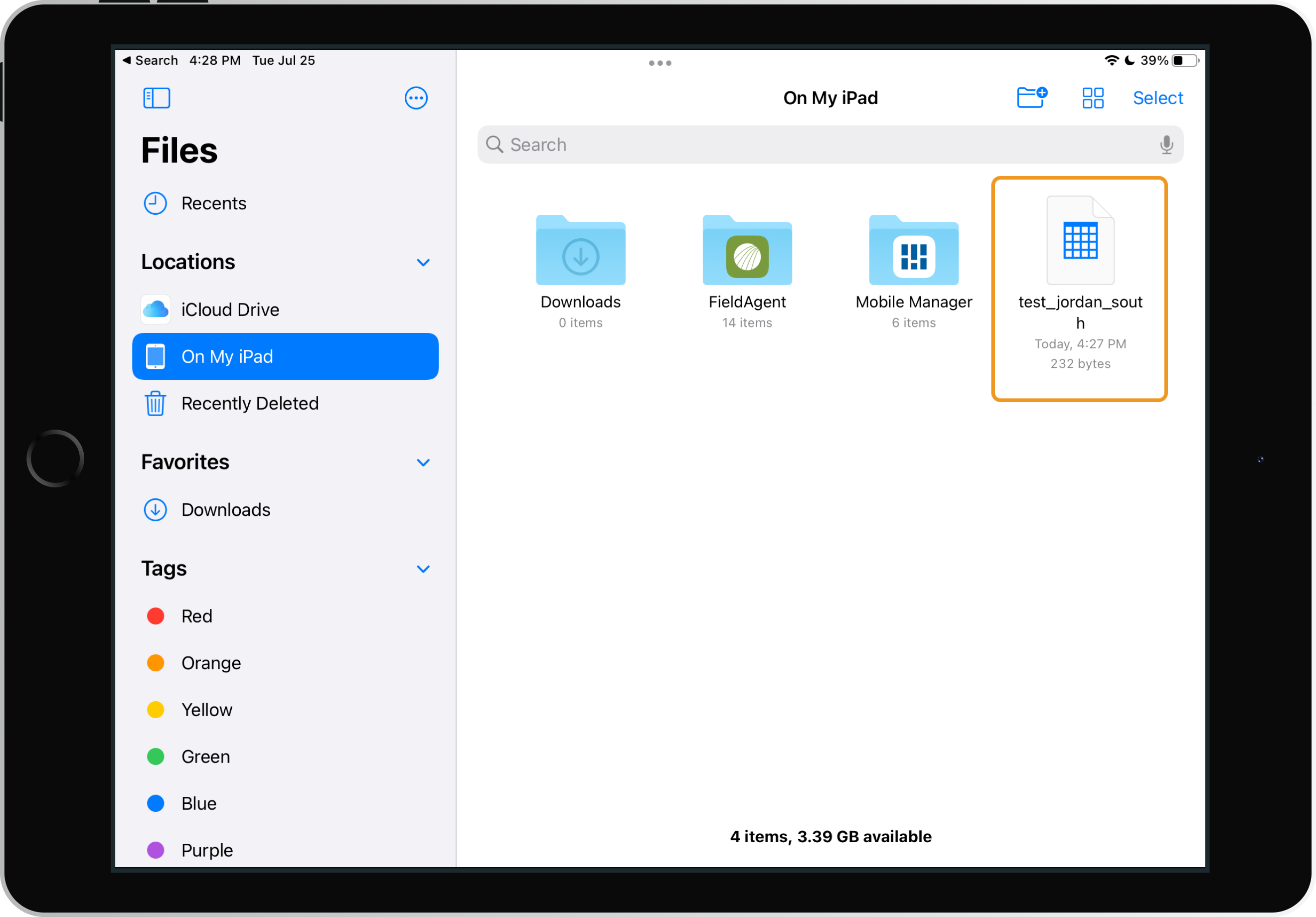 2. Choose to open the file with FieldAgent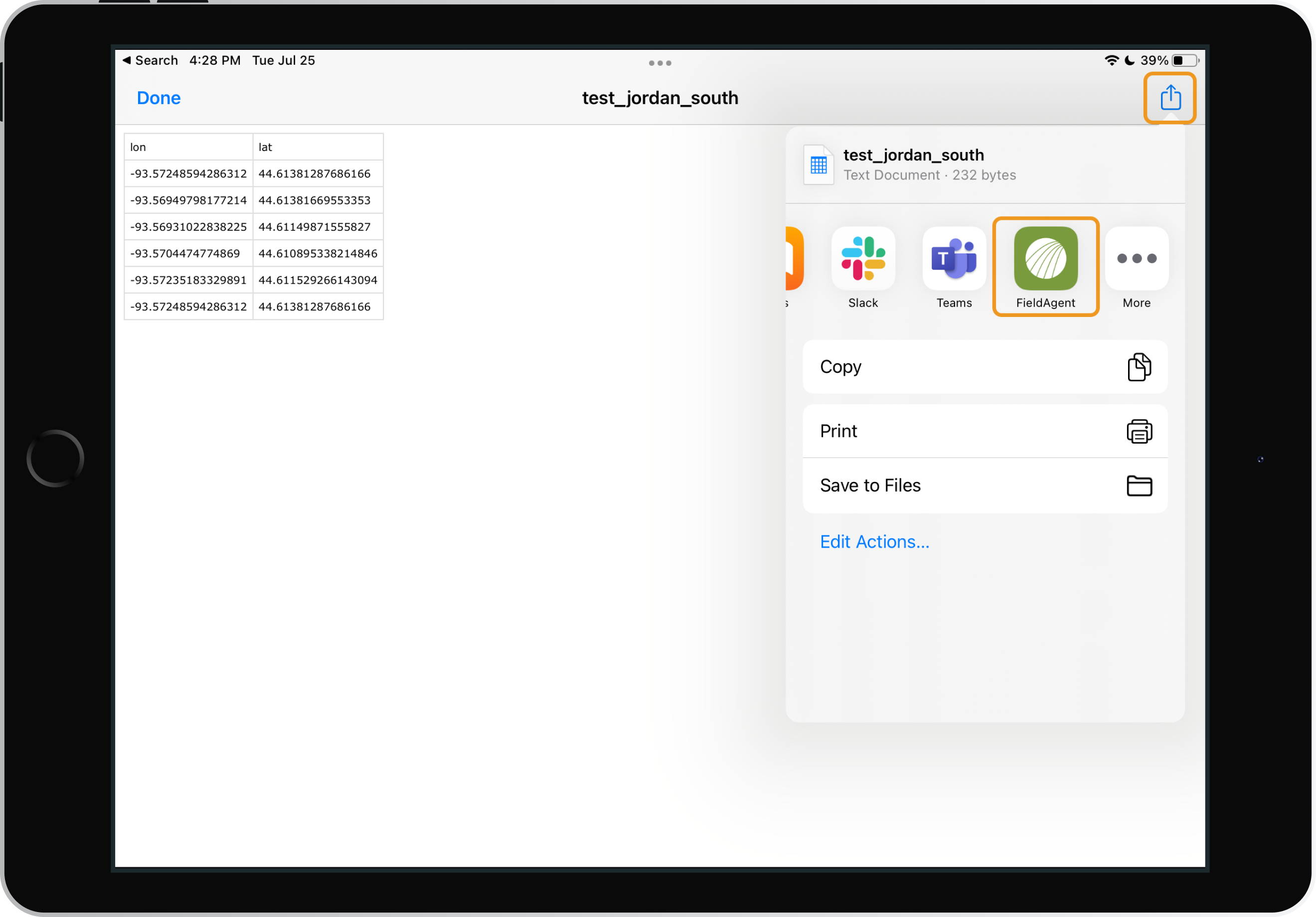 3. The CSV will open up as a flight plan over a new field.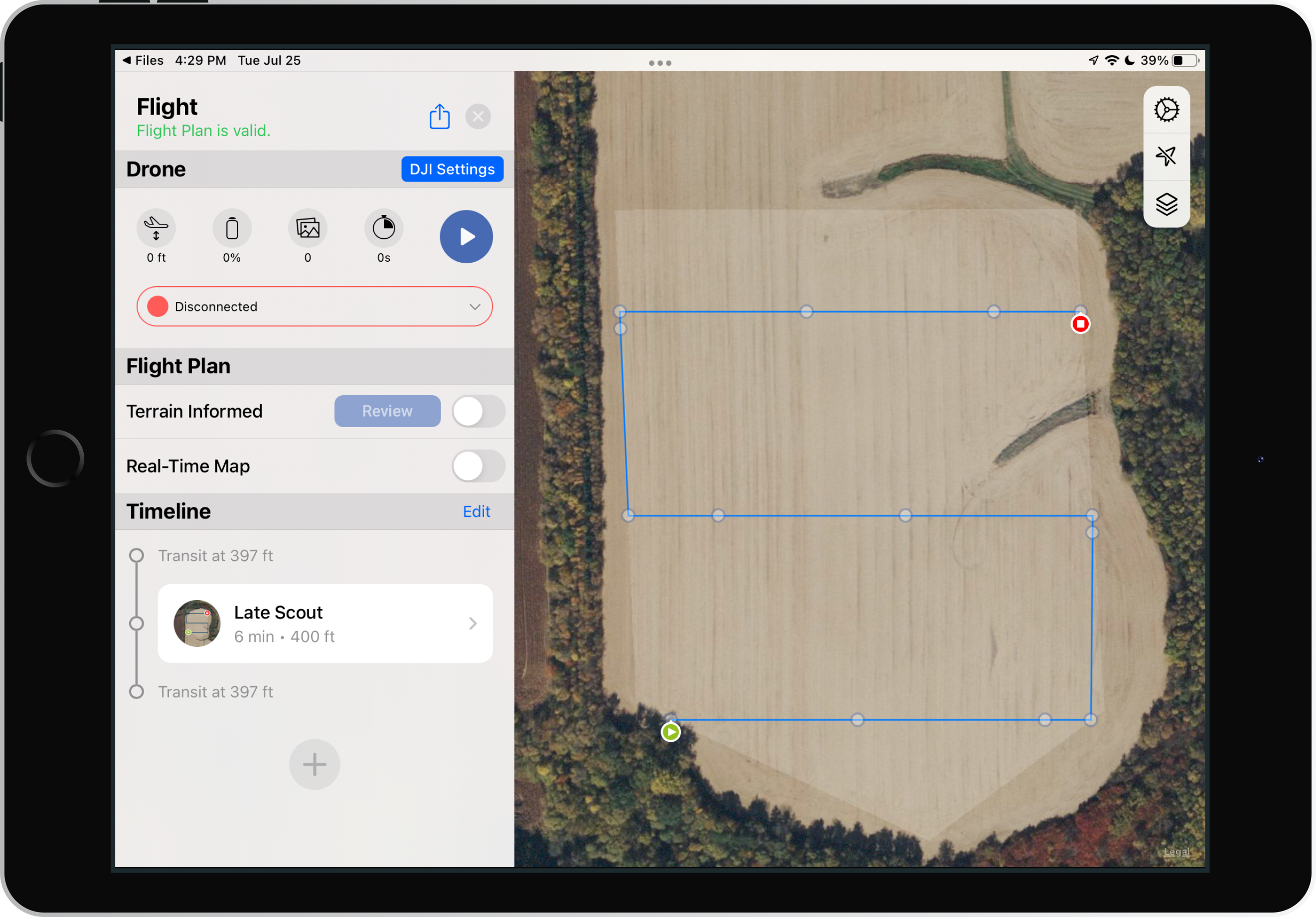 Creating a Field
1. To save the field click the settings wheel in the top right corner.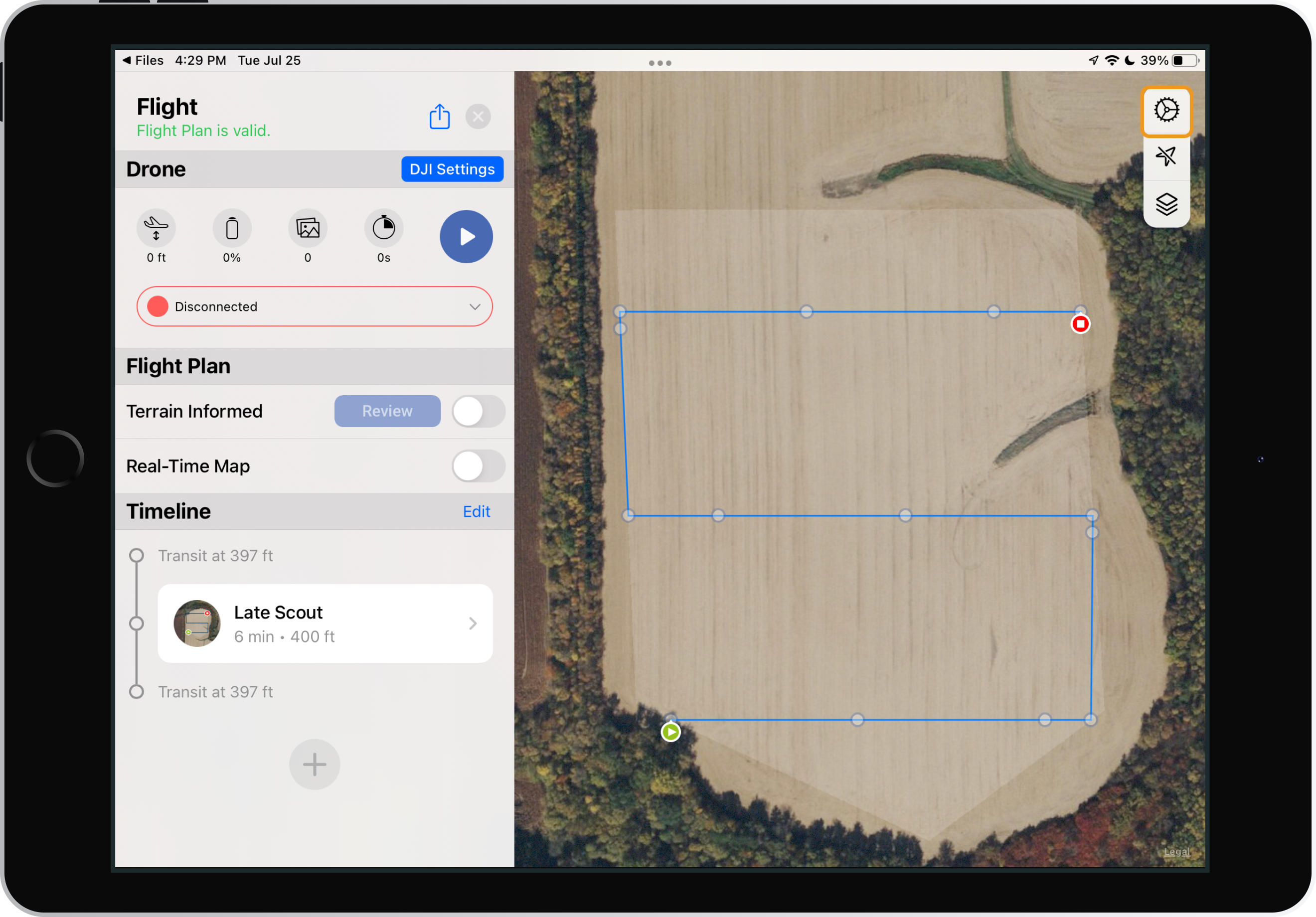 Note: Only the field boundary will be saved. Flight parameters will need to be reentered for future flights.
2. Click Create a Field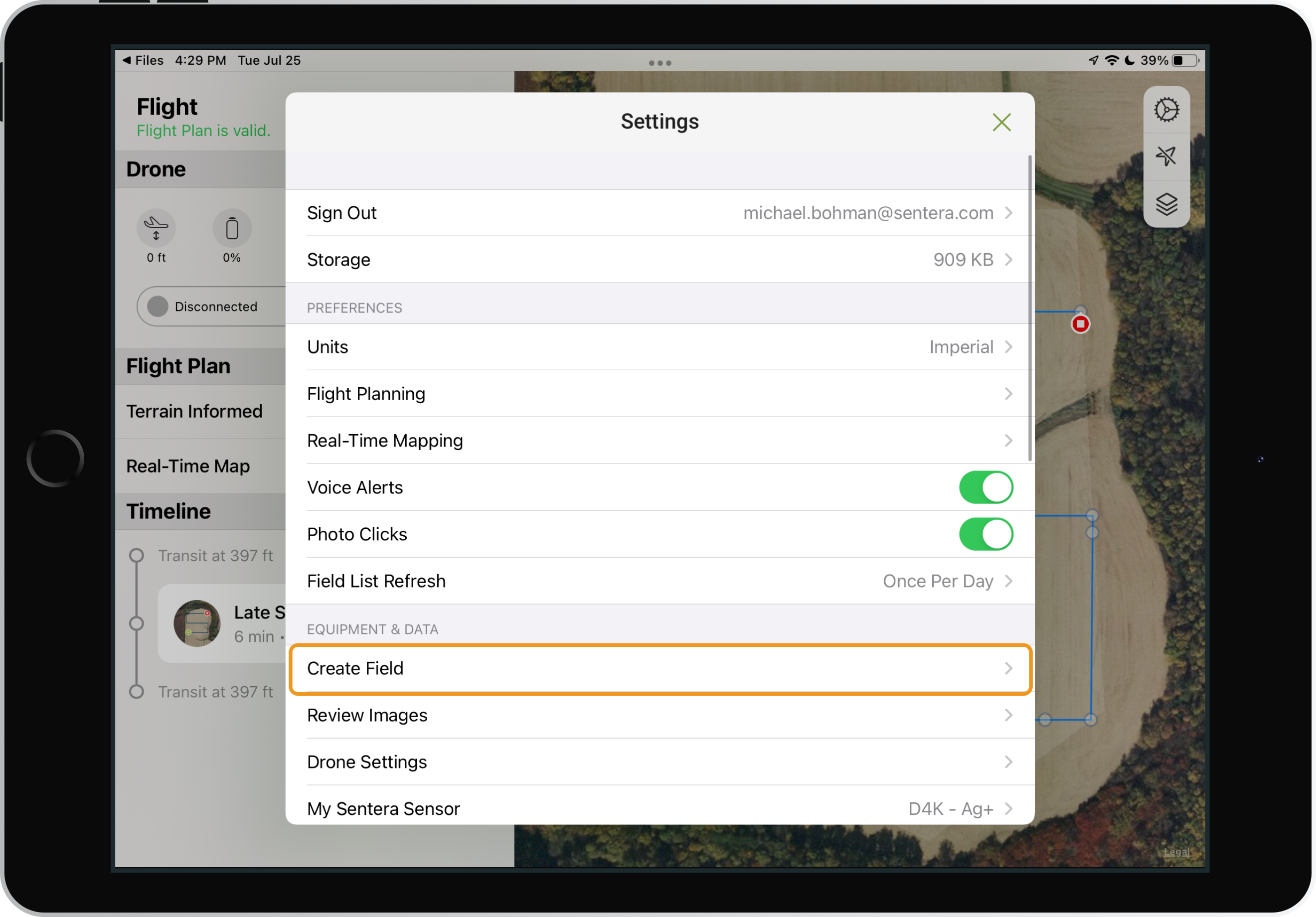 3. Name your field and click OK.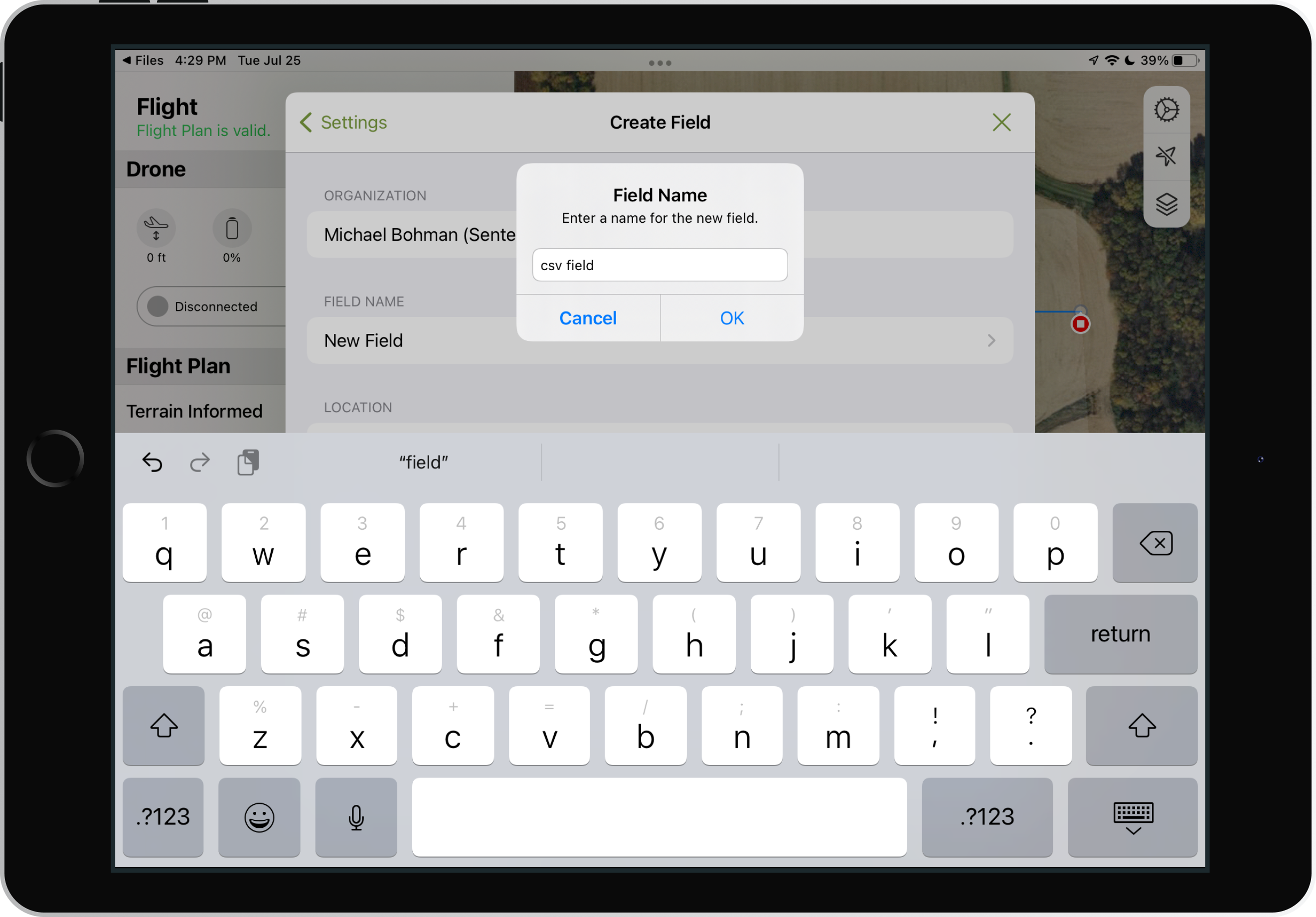 4. Click
Upload.
T
he field will be saved and uploaded to FieldAgent. This Field will be visible in all FieldAgent clients.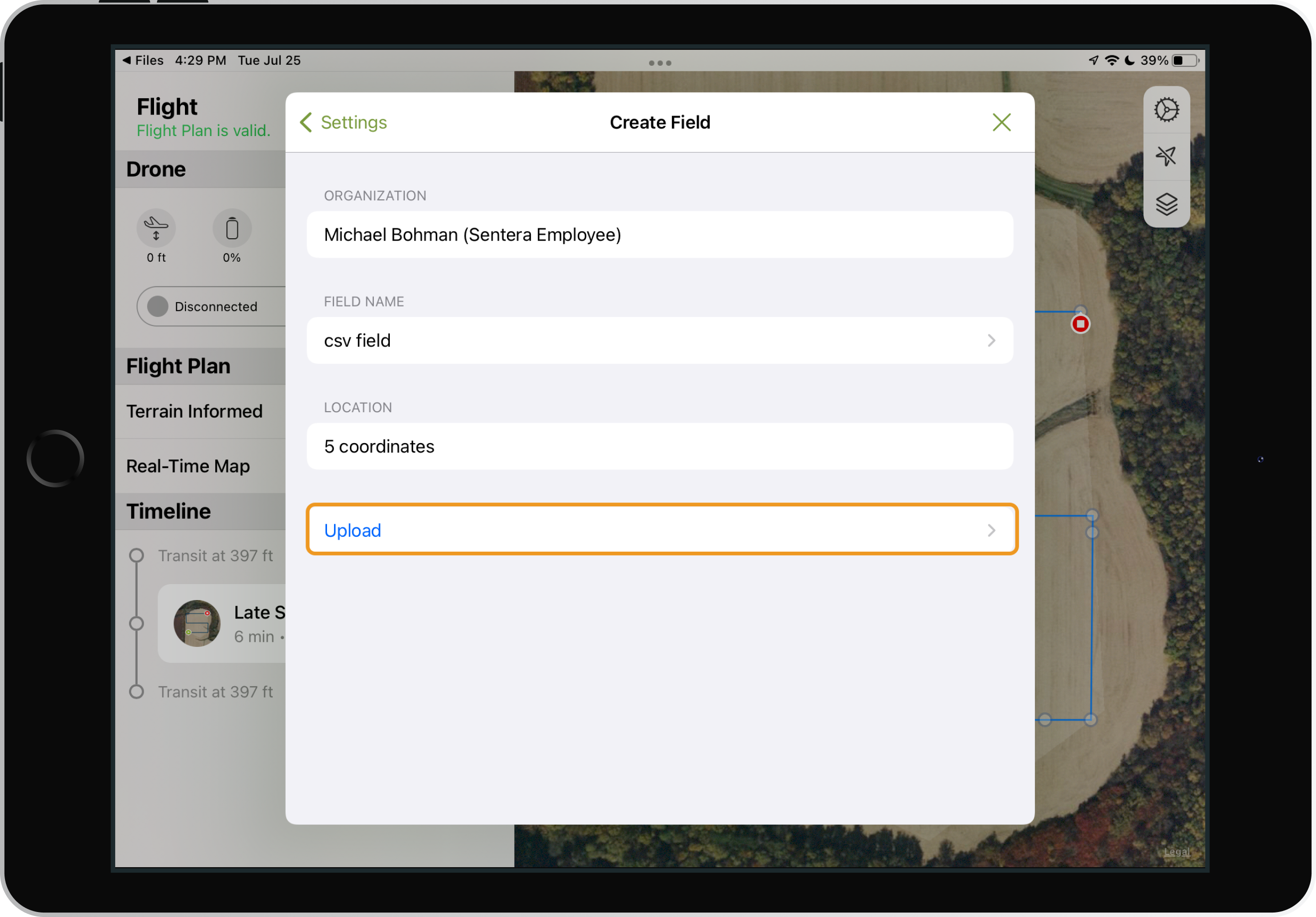 Related Articles

FieldAgent Mobile - User Guide

FieldAgent® Mobile User Guide English Engineered in Minneapolis, MN, USA April 14, 2022 Doc # 17013 Rev F Copyright © 2022. All rights reserved. Trademark Notice FieldAgent, Double 4K Skyport, and Double 4K are registered trademarks of Sentera. Other ...

FieldAgent - Mobile Stand Count

Overview The Mobile Stand Count feature for FieldAgent Mobile (iOS app) is intended for quickly processing shareable Stand Count results from the field's edge. The video below shows it populating in real time: A map result will be shareable ...

FieldAgent Mobile - Flying a Field using an Existing Field Boundary (Video)

Make sure fields are already synced in FieldAgent? Just find the field boundary of the field you would like to fly in the FieldAgent iOS app and swipe to fly! The Video Below will walk you through how to use an existing field boundary to plan out a ...

FieldAgent - Create and Share a Report

Create a Report in FieldAgent on Desktop FieldAgent Desktop has two options for creating reports; Basic and Detailed. Basic Report To generate a basic report: Open FieldAgent on Desktop. Navigate to the field you would like to generate a report on. ...

FieldAgent - Create, Edit, and Delete a Field Boundary

This page describes how to create and edit a field boundary in FieldAgent Web and Desktop. Field Agent Web Create a Field Boundary 1. Visit https://fieldagent.sentera.com/ 2. Zoom-in on the area where you would like to create a field. 3. Click the ...