Sentera PHX™ - Fly PHX Software
Fly PHX - Flight Control Application
Download the latest version of Sentera's Fly PHX software for the Sentera PHX™ fixed-wing drone.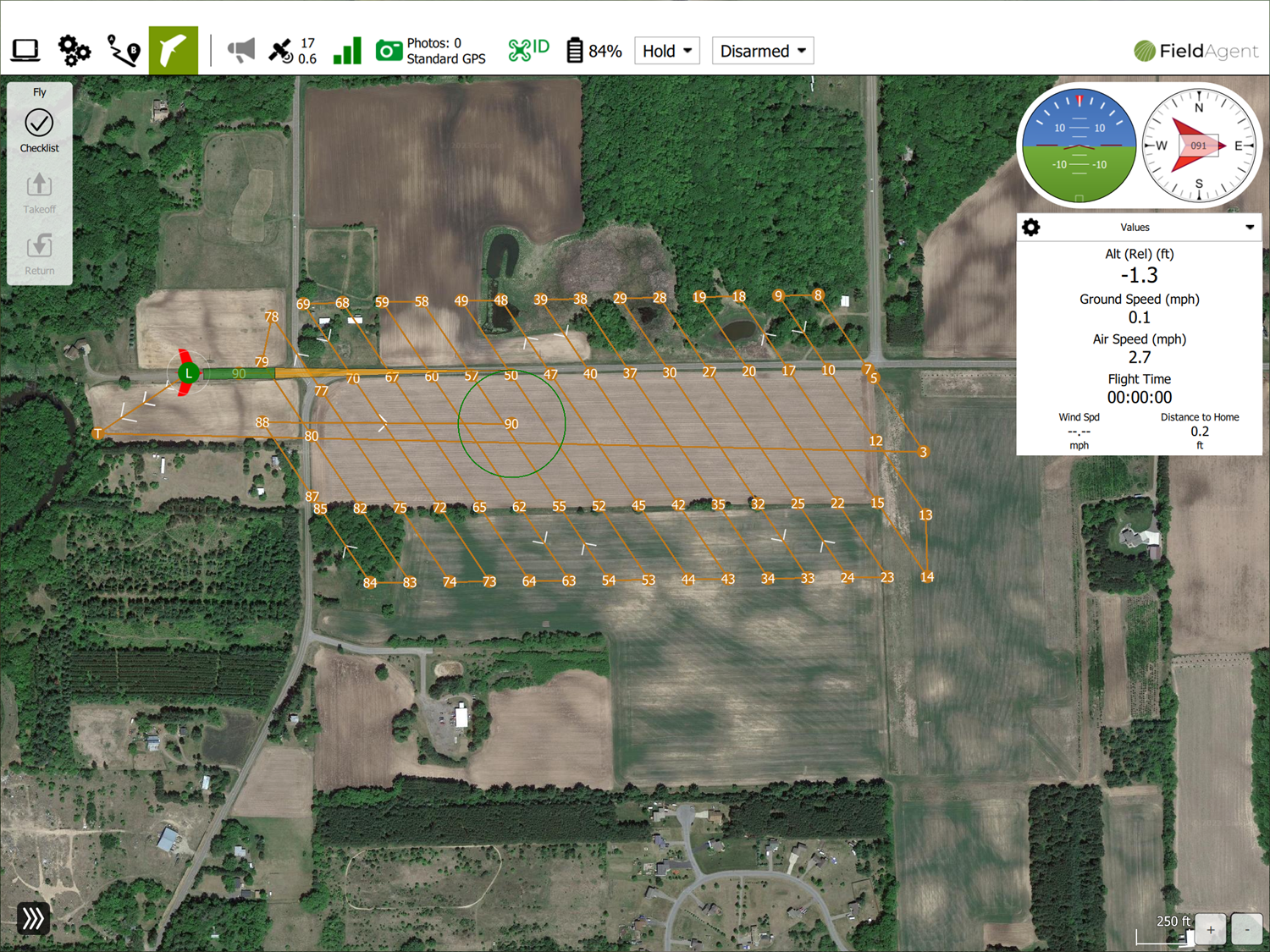 ---
Download Version 1.9.1



---


Release Notes:

Version 1.9.1

Adds Remote ID Support
Updated system links behavior
Updated support links
Updated Pre-flight checklist (RID)
Support for Apple shared folders on iOS
Adds support for Sentera 65R
Updated mission planning battery estimate
Updated firmware checking
Version 1.8.2

Improved pre-flight checklist airspeed calibration graphics.

Improved pre-flight checklist compass check graphics.

Distance to home is now a default telemetry value.

Updated branding.
Version 1.8.1

Improved camera feedback icon.

Automated firmware/software checking.

Locked minimum takeoff distance of 500ft.

Added a spar joiner check to the pre-flight checklist.

Updated the camera payload pre-flight check automated logic.

Improved log file sending interface.
Version 1.7.3

RTK Precision Weed Map preset settings updated.

Updated UI with current Sentera branding.

Improved lost communications warning logic.

Improved camera feedback information.

Improved FieldAgent field boundary import, selection, and search.

Improved help page.

Video stream defaulted to off on iOS.
Version 1.7.2

Added a signal strength indicator to the top bar menu.
Survey entry point and transect angle are based on takeoff waypoint heading.
Loiter clockwise checkbox is now available in the landing mission item box before clicking the Done button.
Added a Help page with support site links in the application settings menu.
New multi-survey mission planning template.
Land abort slider can no longer be accidentally closed during final approach.
Altitude can be changed at the same time pause or Go-To waypoints are commanded.
Added Double 4K payload information into right hand menu. Photo counter, SD card percentage, and session status can now be seen.
Takeoff waypoint now defaults to a 250ft AGL altitude instead of 400ft AGL.
Improved font rendering.

Version 1.7.1



Improved Pre-Flight checklist with additional "Info" text and explanations


Landing Pattern distance is now locked to recommended distance when dragging on the map (can still be edited in the dialog box).




Pre-flight checklist now auto-resets between flights




Miscellaneous bug fixes



Version 1.6.0
New application name and icon: "Fly PHX."

Users can choose to uninstall Sentera Ground Control after installing Fly PHX (recommended).

Download field boundaries from your Sentera FieldAgent. Directly use shapefile field boundaries in mission planning.

Easier mission planning with "Create Plan" wizards and easier-to-understand buttons.

Built-in presets for survey settings so you can select your flight profile at the click of a button.

More options for editing the survey area polygon.

Streamlined pre-flight checklist with built-in airspeed calibration and test (checklist must be completed before "Start Mission" is allowed).

Multiple languages now supported in General Settings.

Telemetry log replay now available in General Settings.

Additional Flyscreen options now available in General Settings.

Supports USB-stick ADSB receiver (Beta, Windows only).

New "email support" button available to contact Sentera Customer Support directly from within the application.

Many graphical enhancements.



Version 1.4.0
Misc bug fixes




Smaller log files
Version 1.3.0
Import shapefiles without conversion




Defaults the camera to stop taking pictures when in the landing pattern.




Miscellaneous bug fixes




Miscellaneous user interface improvements
Version 1.2.1

Fixed a bug affecting the terrain database and maps. Users must delete and re-download their offline maps after installing this update.

Streamlined Pre-flight Checklist.

New "Place landing at vehicle location" button in the Fixed Wing Landing Pattern tool.

Miscellaneous improvements.
Version 1.2.0

New built-in pre-flight checklist.

Improved Landing Pattern graphics in both Plan and Fly screens.

Easier to adjust altitude immediately when Pausing the mission.

Easier to immediately GoTo a Hold position anywhere by clicking on the map and sliding to confirm while in flight (maintains current altitude, distance limits apply).

New Corridor Scan flight pattern is available.

Option to fly alternate transects in Survey to improve mapping efficiency.

Circular Survey patterns now supported.

Import KML and Shapefiles to create survey patterns (for shapefiles use a Shape-to-KML converter first).

Geofence maximum distance and altitude can now be adjusted by the user on a per-flight basis.

Geofence circle now shows in both Plan and Fly screens when the vehicle has a Home position.

Terrain database is available for online and offline use.

Waypoints can have altitude relative to Home or altitude above the terrain.

Survey and Corridor Scan patterns can follow the terrain.

Confirmation sliders are now white for easier readability outdoors.

Miscellaneous other improvements.
Related Articles

Sentera PHX™ - Software

Download: Sentera's Fly PHX Software Sentera's Fly PHX Software General Information: Sentera PHX™ - Operation Manual Download: Field Agent™ Desktop Software Sentera Field Agent™ General Information: FieldAgent™ Desktop User Guide Getting Started & ...

Sentera PHX™ - Getting Started with Fly PHX for iPad

Fly PHX is available for the iPad for the iOS App Store 1.) On your iPad select the App Store icon. 2.) Type in the search bar "Fly PHX" or "Sentera". 3.) Select the Fly PHX icon to download the software. 4.) Turn the CommsBox for your PHX 5.) Open ...

Sentera PHX® - How to Replay Telemetry Files in Fly PHX

Scroll to the bottom of the page to download the Sentera PHX How to Replay Telemetry Files in Fly PHX. Download the latest Sentera PHX Operation Manual Sentera PHX Firmware Update

Sentera PHX™ - Autopilot Firmware Update (PX4)

Download the latest version of Sentera PHX Autopilot Firmware (PX4) link. See also: Release Notes. Use the following instructions to update: Download the latest Sentera PHX™ Autopilot Firmware from the link above. Assemble and power on your Sentera ...

Sentera PHX - SenteraCare PHX Extended Warranty and Protection Plan Program – Terms and Conditions

Scroll to the bottom of this page to download the Sentera PHX - SenteraCare PHX Extended Warranty and Protection Plan Program – Terms and Conditions from this page. Download the latest Sentera PHX Operation Manual Sentera PHX Firmware Update