FieldAgent Desktop - Using an External Hard Drive and Migrating Your FieldAgent Library
Some users find that throughout the course of a season, they run out of space on their PC for supporting the FieldAgent library. It can take a significant amount of space to run and save our analytics. The good news is that the FieldAgent library can be migrated to another drive, saving valuable space on your PC. This article will walk through our recommendation for which external hard drive to use and the process for migrating your FieldAgent library.

Note: The external drive needs to be connected to PC for FieldAgent Desktop to work.

Our External Hard Drive Recommendation
While we do not manufacture or sell any external hard drives, our team has had the best success with
this model
. We recommend that you purchase at least the 1TB size. If you are planning to run lots of analytics throughout the course of the season, the 2TB version may work best for you. Please feel free to reach out to our team if you have specific questions about what amount of storage you will need.
Directions:
In FieldAgent Desktop click on the blue gear

in the top right corner.





Select Settings.





Select Library.




Click Change.





Click Browse to identify to the drive you want to move the library to.




Click on the drive name or folder in the drive and click OK.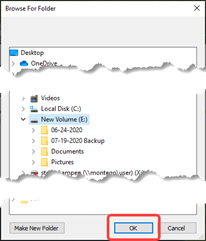 Click Save.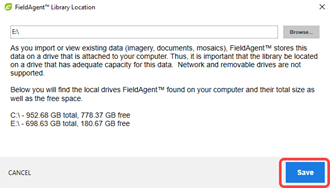 Click Yes.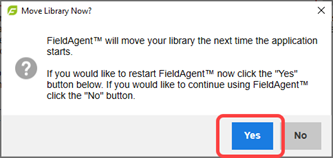 9. Log back in to FieldAgent Desktop and click Close to let the process run.

10. Use FieldAgent Desktop as you normally would. The external drive will need to be connected every time you use FieldAgent.

Related Articles

FieldAgent Desktop - Update Stitching Service

Update Follow these instructions to update the Sentera Stitching Service: Launch FieldAgent Desktop and update if necessary. Double-click on the Sentera Stitching icon to start an update process, if necessary. This can be found on your desktop or in ...

FieldAgent Desktop - Sentera Stitching Service Install Manual

1 Requirements for Installing 1.1 PREREQUISITES Microsoft .NET Framework 4.6.1 (x86 and x64) 1.2 SYSTEM REQUIREMENTS A 64-bit version of Windows 8/10/11 Pro [help] 32 GB of RAM Minimum of a 4 core / 8 thread CPU 25 GB free disk space Virtualization ...

FieldAgent - Desktop and Sentera Stitching Software

Download FieldAgent™ Desktop Here Sentera Field Agent™ General Information: FieldAgent™ Desktop User Guide Download Sentera Stitching Service Here Sentera Stitching Software General Information: Sentera Stitching Service Install Manual Other Helpful ...

FieldAgent Desktop - User Guide

Field Agent Desktop User Guide English Engineered in Minneapolis, MN, USA 14 April 2022 Doc #67002 Rev E Copyright © 2022. All rights reserved. Trademark Notice FieldAgent, AgVault, and Incident Light Sensor are registered trademarks of Sentera. ...

FAQ: What are the System Requirements to Run FieldAgent™ Desktop?

MINIMUM SYSTEM REQUIREMENTS: FieldAgent Desktop A 64-bit version of Windows 8/10/11 Pro or Enterprise [help] 8 GB of RAM, 16 GB or higher allows for better overall performance 4 Core/8 Thread CPU SnapDragon, Qualcomm, and Microsoft SQ1 are not ...