QuickTile vs Stitched Mosaic
What is the difference between a Stitched Mosaic and a QuickTile?

Simply, a QuickTile looks like a map comprised of many images and a Mosaic looks like map comprised of a single image. Stitched Mosaics may look cleaner, but are not always worth the extra flight time required to capture the
necessary
overlap. A video description can be found at the bottom of this article.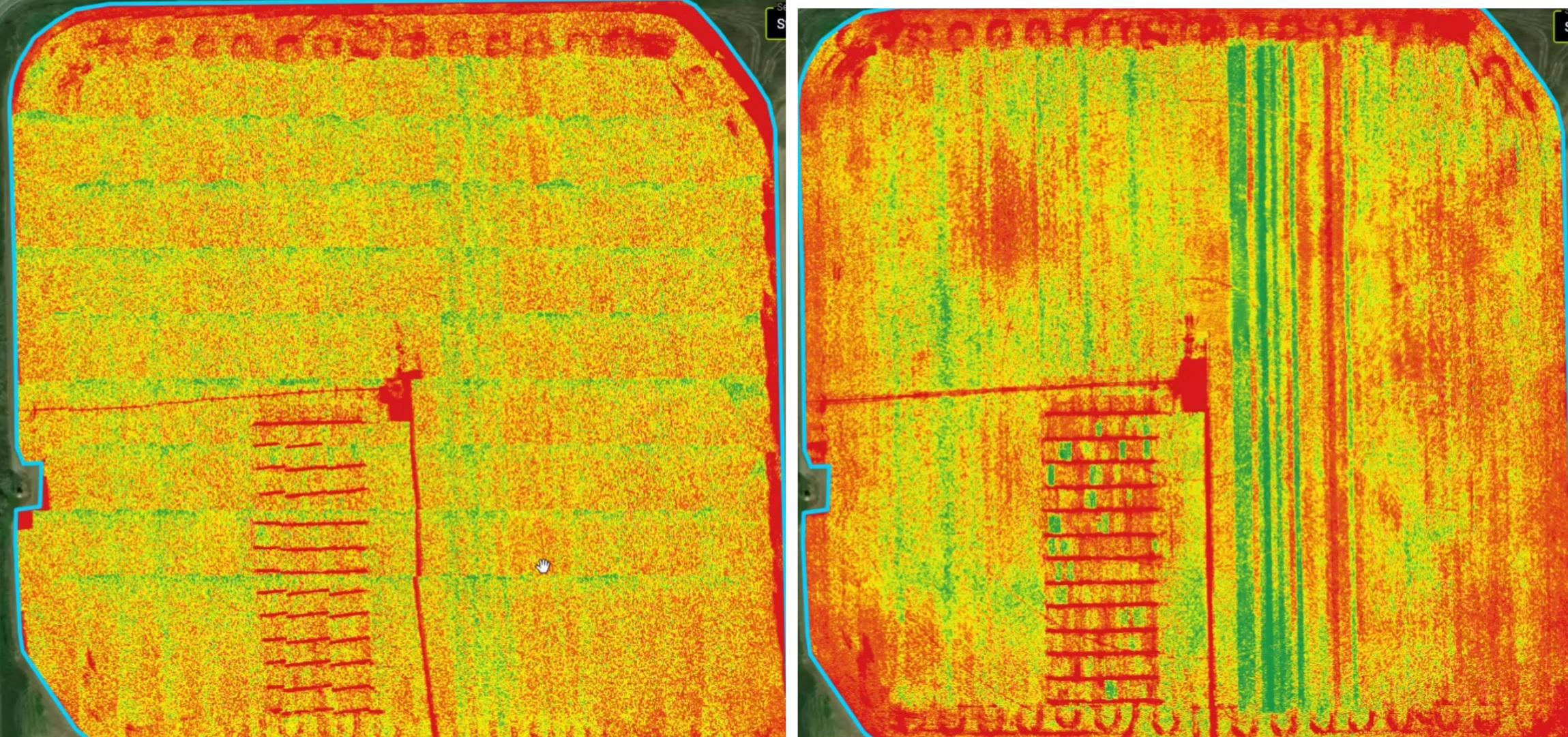 Quicktile image
Mosaic image
QuickTile

QuickTiles, although a bit of a rough image, are available to view within minutes after importing; No internet is required for a QuickTile using FieldAgent on Desktop. Images are placed on on a map below the point where they were collected. Images are not compared to adjacent images, as they are in a stitched Mosaic. QuickTiles can still be used to create Management Zones and Prescriptions.

Pros:

Automatically generated when the flight is imported into FieldAgent

Appears in the Map Layer area on FieldAgent
Images are laid out exactly in order they were taken

Can be processed at field edge, no internet needed

Accessed immediately, ground-truthing can be performed immediately

Images can be exported into a farm management tool
Cons:
Images are not as accurately aligned
QuickTiles may lack the detail of a stitched mosaic. In the example above, it is difficult to make out the plot trial or strip trial lines in the QuickTile, whereas those features very clear and defined in the stitched mosaic.
Stitched Mosaic

A mosaic compares each image to all images adjacent to it. This allows for more accurately positioning geographically. Comparison between images also allows for smoothing between images to the point that it is almost impossible to tell the result is composed of sometimes 100s or 1000s of images. Mosaics are available only after post-processing.

Pros:

Stitched Mosaics produce a MUCH better looking result




It is easy to see features that span multiple images in a stitched mosaic




You receive both a QuickTile and a Full Mosaic for a single flight



Images can be exported into a farm management tool
Cons:

Longer post-processing time

Appears in Map Layer only after processing
Must order through Sentera, results take several hours to one day later

Not available at field edge

Internet is needed
Contact Sentera Customer Support:
Create a Support Ticket
Here
Phone: (844) 736-8372 - Option "1"
Related Articles

FAQ: FieldAgent - How Do I Order a Fully Stitched Image?

If you find a full mosaic will fit your needs better than a QuickTile, FieldAgent Desktop users can install the Sentera Stitching Service to locally stitch mosaics. Sentera also offers a Cloud Stitching service. Users can order this option via ...

FieldAgent Desktop - Ordering a Mosaic or Elevation Map

If a full mosaic will meet your needs better than a QuickTile, but you don't have the necessary software and hardware to create the mosaic yourself, Sentera can create and publish the mosaic for you. Before you order the elevation map, please make ...

FieldAgent Mobile - Data Collection Best Practices

NOTE: FieldAgent Mobile will now alert you when your flight plan will result in missed images. This warning applies to the onboard cameras for all DJI drones, as well as DJI Skyport enabled Sentera Sensors. DJI controlled sensors are only able to ...

FAQ: FieldAgent - Why Can't I Order a Mosaic?

To order a full mosaic after importing images into FieldAgent™, go into the imported survey date and click the gear icon. You should see an option to order a mosaic. If you don't, the field is not fully synced with the cloud servers. To Confirm the ...

Mavic 3 Enterprise Image Capture Settings for Spot Scout & Mosaics

The DJI Mavic 3 Enterprise ships with default settings that need to be changed before capturing data. Some settings vary by type of mission and will need to be adjusted between flights. Settings for all Missions Setting Value Mechanical Shutter ...